Thank you Emily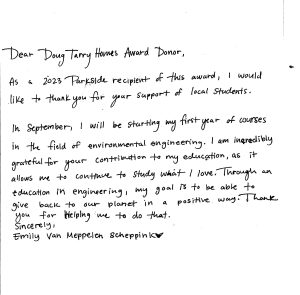 We received a truly heartwarming thank you note from our 2023 Parkside Award recipient, Emily Van Meppelen Scheppink, who is studying environmental engineering.
Emily embodies the spirit of our award, which aims to empower individuals who are dedicated to creating a sustainable future. Her commitment to environmental engineering is nothing short of inspiring, and we are immensely proud to support her journey. In her touching note, Emily shared her aspirations to utilize her education to give back to our planet in the most meaningful and positive ways possible.
As a company deeply rooted in sustainability, we couldn't be more thrilled to play a part in Emily's educational journey and her mission to make the world a greener, healthier place for all of us.
Thank you, Emily, for your dedication and passion. Your determination is a beacon of hope for a brighter future, and we are excited to see all the incredible contributions you will make to our planet!
#DougTarryHomes #ParksideAward #EnvironmentalEngineering #Sustainability #BrighterFuture #ThankYouEmily