Mural Love Continues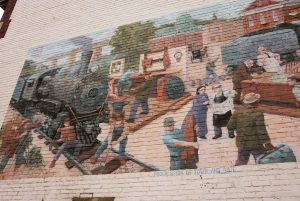 St. Thomas is home to many murals throughout our City. Each week we are highlighting a mural, along with the address of where the mural is located, so you can go check it out!!
Enjoy the FOUNDATION OF TOWN & RAIL.
The Canada Southern Railway was a big part of St. Thomas' rail history from 1872 to 1881. The C.S.R.'s legacy to the community is its historic Talbot Street station, which was created in 1872 as a shortcut through Canada from Chicago to New York.
To see this mural in person, visit 456 Talbot Street.
#suchtalent #murals #stthomasproud #railwaycity #workofart #community #dougtarryhomes