Mural Love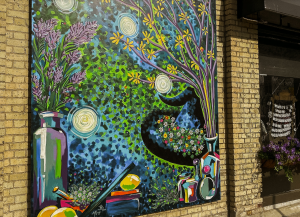 St. Thomas is home to many murals throughout our City. Each week we are highlighting a mural, along with the address of where the mural is located, so you can go check it out!!
Enjoy MAGIC OF NATURE
This work celebrates the tradition of the apothecary from its roots of Lemon's Apothecary to today's eclectic Purely Wicked shop.
The artists have honoured botanical medicine across centuries through depictions of the magic of nature.
It is not only by chance that this is now the home of Purely Wicked, offering our community therapeutic healing for the mind body and soul through their products and services. The growth of Purely Wicked is a testament to the opportunities for many businesses and the economic development within St Thomas.
The artists aim to celebrate these business achievements, empowered women in our community and a culture of old world witches and healers.
To see this mural in person, visit 633 Talbot Street.
#suchtalent #murals #stthomasproud #railwaycity #workofart #community #dougtarryhomes