Mural Love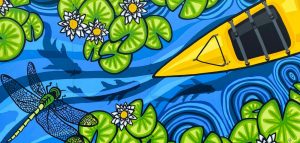 St. Thomas is home to many murals throughout our City. Each week we are highlighting a mural, along with the address of where the mural is located, so you can go check it out!!
Enjoy DRIFT
"According to Inuit oral tradition, kayaking was a way of life as well as a practical tool…for over 2,000 years. An individual's mastery of the kayak measured personal growth and connection to the community. The kayak also provided the Inuit with a means of interacting with Arctic geography and ecology; kayaking was a way to explore landscapes, access natural resources, encounter animals and socialize with the Inuit of other communities." (The Canadian Encyclopedia)
To see this mural in person, visit 800 Talbot Street.
#suchtalent #murals #stthomasproud #railwaycity #workofart #community #dougtarryhomes