Join Us Today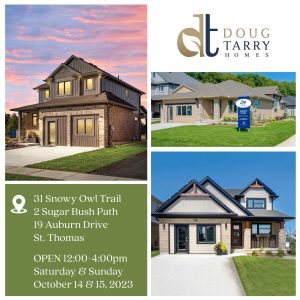 ????✨ Join Us for an Open House Blitz! ????✨
Today, Doug Tarry Homes, in collaboration with other esteemed The St. Thomas & Elgin Home Builders' Association members, invites you to explore our stunning model homes. It's your opportunity to discover the homes of your dreams and enter a draw to win a gift card to Canadales!
???? Visit us at: 31 Snowy Owl Trail 2 Sugar Bush Path 19 Auburn Drive
???? When? Today, Sunday, October 15th
???? Time? 12:00 PM – 4:00 PM
Don't miss out on this exciting event! We can't wait to welcome you. See you there! ????
#OpenHouseBlitz #DreamHomes #CommunityEvent #stehba #dougtarryhomes