It's Good to Give Back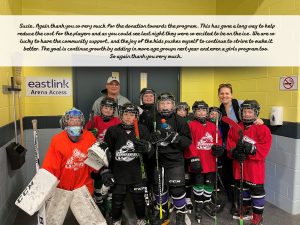 "Suzie, Again thank you so very much for the donation towards the program. This has gone a long way to help reduce the cost for the players and as you could see last night they were so excited to be on the ice. We are so lucky to have the community support, and the joy of the kids pushes myself to continue to strive to make it better. The goal is continue growth by adding in more age groups next year and even a girls program too. So again thank you very much".
Doug Tarry Homes is always happy to help those in need. Seeing the smile on those faces is what it's all about ?