Car Seat Safety Clinic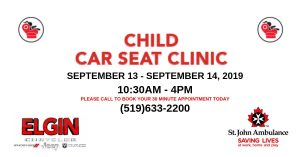 Are you a new or expecting parent? 75% of car seats are installed incorrectly. Could yours be one of them?
Elgin Chrysler Dodge Jeep Ram has decided to host a FREE Car Seat Clinic for our community in conjunction with St. John Ambulance. Time slots fill up fast so please call (519) 633-2200 to book your appointment on Friday, September 13th or Saturday, September 14th from 10:30AM-4PM
While the event is free, donations for St. John Ambulance are welcomed.
#stjohnsambulance #carseatclinic #safetyfirst #bookyourappointment #elginchrysler #dougtarryhomes #homebuilder #stthomasproud