Calling all creative minds!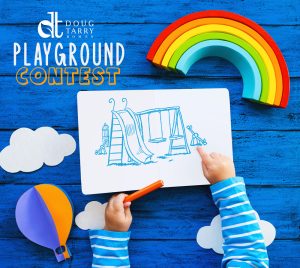 ???? Calling all creative minds! ✨
Doug Tarry Homes is on the hunt for your fantastic ideas, and we want YOU to be a part of it! ????
Guess what? Eagle Ridge is getting a brand-new playground, and we're excited to hear what kind of magic you'd like to see there! Whether you're a kid or just a kid at heart, your input matters! Visit our Facebook page, and let us know your ideas in the comments or get extra artsy and send us a playful drawing via messenger. ????️
Let's make this playground a place of endless fun and adventure together. Get those creative juices flowing, and we can't wait to see what incredible ideas you'll bring to life!
#PlaygroundMagic #CreativeIdeas #CommunityFun #EagleRidge #Playground #Creative #CallingAllArtists #DougTarryHomes #StThomas #StThomasProud #letgetartsy #creativeminds City of St. Thomas, Ontario Aylmer, Ontario Port Stanley, Ontario Municipality of Central Elgin
*By submitting artwork, you grant Doug Tarry Homes permission to share your artwork on our social media platforms while keeping your names confidential.